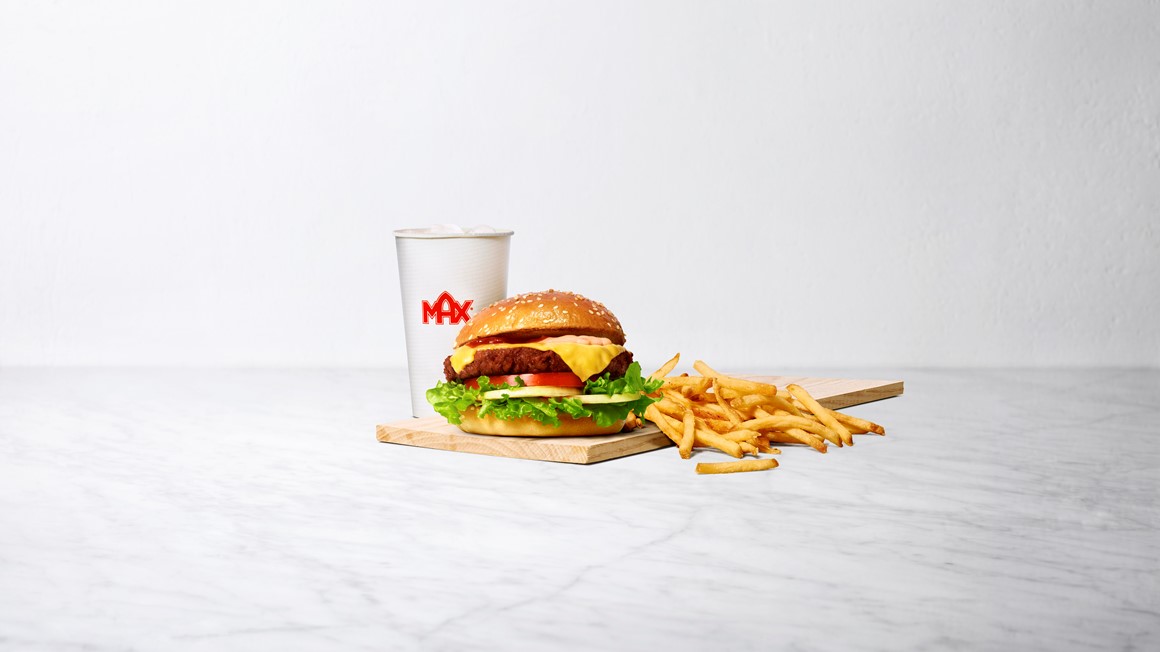 MAX Burger's plant-based burger crowned winner in the Quality Innovation Award 2020
Stockholm 2/2/2021 8:44 AM (Updated 2/2/2021 9:19 AM)
MAX Burgers is one of this year's Swedish winners of the international award Quality Innovation. The award aims to reward innovations and inspire innovators to believe in their ideas, MAX is awarded for the work and development of the plant-based burger Delifresh Plant Beef.
The Quality Innovation Award is handed out in 20-some countries and provides innovations attention and opportunity to compare across both national and industry boarders. To win, the innovations must be considered role models in the industry, inspire other innovators, and spread knowledge.
Following years of research and development, MAX Burgers successfully came up with Delifresh Plant Beef - a plant-based burger. Determination and continuous product development, with sustainability in mind, has led to a 1100% increase in sales of climate efficient burgers over the past four years.
- We are extremely proud of the Swedish innovations this year, said Mats Deleryd, CEO of
SIQ - Institute for Quality Development, the organization behind the award in Sweden. Like previous years, sustainability remains a key focus area in the innovations, giving us great faith for a sustainable future. This year several innovations had greater focus on social sustainability than before.
About MAX Burger's win
Innovation: Delifresh Plant Beef
Category: Dare to share
The jury's motivation: After years of research and development, MAX Burgers has developed Delifresh Plant Beef - a plant-based burger. The result is a product that both looks, tastes, and feels like a meat product, but with smaller climate impact. The product contributes to achieving MAX 2050 goal; a guest's average meal will not emit more than 0.5 kg CO2e. Following a lengthy product development phase with sustainability as a key focus area, MAX has increased sales of climate-efficient burgers by 1100% in the last four years. However, the development of Delifresh Plant Beef has not been without setbacks and therefore, MAX Burgers wins the Quality Innovation Award 2020 "Dare to share" category, to inspire others to persevere and be persistent in their innovation work.
Press MAX Burgers:
Erik Filén, 072-516 03 16, erik.filen@max.se
Information about the Quality Innovation Award
Quality Innovation Award is an annual award for companies or individuals having presented innovations with a clearly identified customer value. The innovations awarded have news worthiness, are focused on user experience, consumer value as well as efficiency.
Winner of Quality Innovation Award 2020 in Sweden:
Svevia
Solar Bora in Linköping
Enbacksskolan in Tensta
Mellersta Förstadsskolan in Malmö
Max Burgers
The award is a co-arrangement between quality institutes in several countries. Vinnova is SIQ's partner in Sweden. The Swedish award ceremony took place yesterday, February 1, in Stockholm. The judges were:
Lena Gustafsson - CEO and founder of Board Balance
Jacob Hallencreutz - CEO of EPSI Rating Group and chairman of the Swedish Quality Index
Sofia Ritzén - Professor and Vice Dean at KTH
Mikael Rönnholm - Head of Innovation Strategy at CEVT
The judges were supported by Mikael Lindström and Mats Deleryd at SIQ. More information about the award can be found at www.siq.se